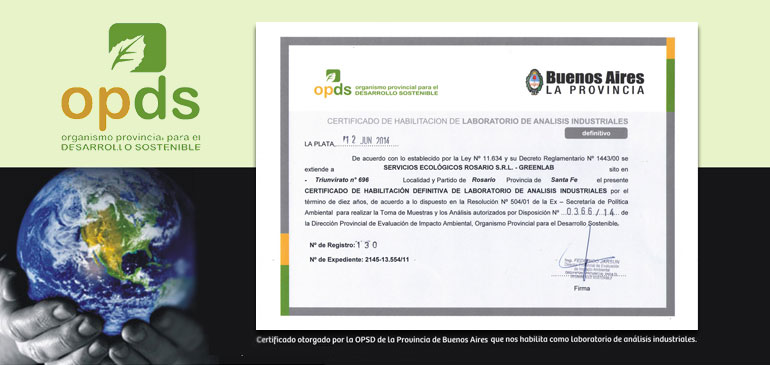 Habilitation granted by OPDS
GREENLAB has just obtained the habilitation granted by the Provincial Agency for Sustainable Development (OPDS) for sampling and environmental analysis of air, water, wastewater, soil and waste throughout the territory of the province of Buenos Aires.
This fact represents a great achievement for our company that for years provides services of quality control of agro-industry; implementation of food safety (GMP, HACCP) systems; analytical certification for export (GAFTA, FOSFA); environmental consulting; studies of environmental impact assessment (EIS) and environmental audits. The same features from the point of view of analytical and consulting in its five divisions: environment, industrial, food quality and safety, pharmacological and agrolab.
"All this matter is consistent with our quality policy and accompanies customers in compliance with the requirements and demands in aspects of environmental protection", said Dr. Angela Orlando, Director General of GREENLAB.
[button style="btn-default" type="link" title="See Comunication" link="http://www.greenlab.com.ar/img/OPDS_nov2014.jpg" linkrel="nofollow"] [button style="btn-default" type="link" title="See Certificate" link="http://www.greenlab.com.ar/img/OPDS-certificado-2014.jpg" linkrel="nofollow"]